History by the (almost) Mystery Man [Edited.]
Citymax has been through many incarnations. Starting from the EDP dept. of Buckmaster and Moore, a stock broking firm based in the Stock Exchange tower.

Citymax, to be correct was called Citymax Integrated Information Systems - although sometimes abbreviated to CIIS or just Citymax. Citymax was formed in 1986 to allow its software to be resold to other similar firms within the City. B&M was soon bought up by Credit Suisse to become CSBM and then became CSAM. Still a major share holder of Citymax, CSBM and then CS were always there to keep an eye on the mischivase IT company.
Headed by Ahmed Abu Ata who was B&M's EDP manager originally (and is now 'big' in the CS Group). Ahmed's trusted board of directors were Amr El-Kashef, Bob Major, Dave Haynes and Keith Singer. CEO was CSB&M's director Harry France. (Shortly after becoming Citymax Hassan Bakr arrived). Other notable original names, although not directories were Ken Perry Husbands and Dr. Kevin Davis and added to were names such as Gerard Clinton from quite early on.

The main product that Citymax sold was its Asset Management system - CISS or was it COSS? In order to sell such a product, it was renamed "Brokermax" following in its company naming format. Brokermax was the original B&M development (based on B&M's original Digital PDP-11 system which had moved on to a Digital VAX VMS system) and catered for just about everything that Asset Manager firms would want; if not, it wasn't too far away from getting there. It was this system that pushed Citymax forward and a large development team came from it. With supporting teams surrounding it for such things as Systems, Comms, Operations the company was moving on up.
Notable clients of Brokermax were CSAM, Fidelity, Midland Bank, Foreign & Colonial, SSL, Greenwell Montague and Flemings Private Asset Management to name but a few.
Bob Major headed Brokermax for a number of years. Notable developer names were Andy Chesterton, Mark Trinder, Simon Strong, Tony Hannay, Breen Sweeney, Dorothy Swinburne, Ruth Anderson, Bernie Kimberly and Robin Bridge(?). Added to these after Citymax was formed were names such as Denis Reynolds, Nick Harrall, Carol Spencer, Jim Warburton, Richard Clark, Nick Banks, Garry Lewis, Graham Hunt and Graham Hopkins.
Brokermax was kept together with the technical team of Keith Singer and people like Martin Kent, Simon Stratford, Keith Bowie, John Stephens and Jason Scholes who developed the infastructure on which Brokermax sat.
Citymax's secondary original system was the Gilt Edged system 'Bondwise'. This was headed by Dave Haynes with his trusted sidekick of Steve Palmer. This system had quite a client base, most notably Barlow Clouse who was famous for its funder member scwandering all the clients money on high living (a bit like R. Maxwell but on a smaller scale - only a few hundred million pounds) - it is not known if Citymax was paid their final invoices. Bondwise was dropped after a while and Dave Haynes moved on a other things within the company but moved on to new things soon after.

The company moved from its original development offices in Austin Friars (while still maintaining its computer suite on the 19th floor of the L.S.E tower) to the first floor of Bush Lane House on Cannon Street. It then moved again to Laurence Pountney Hill (LPH) just off of Cannon Street taking the entire building with the exception of the 3rd floor (originally, although did take it later). A new logo was needed - and with just the right green!
Off-shore offices in Cairo were formed to allow for cheaper development of Brokermax. Offices in Solar House in Stratford were purchased to house the computer room - at one time boasted as the "City's" largest. Citymax's services were starting to become a force to be reckoned with. Communications teams were split up to allow for desktop and network services to become offsite consultants.
Limmax was Citymax's push in to a new market to provide a full Financial Product range. Limmax was the insurance product that was produced with GAN Minster.
The Ascot project with Simon Farmer was the fore runner to the Axiom project which allowed Citymax to get some newer technologies and to create a branch in New York (within the World Trade centre).
Sales teams were formed with Simon Smith? but this didn't help - famous for the Citymax stationery gimmics of pens with Citymax on but when used would come off within 10 minutes. New Sales and Marketing teams were added with the likes of Richard Weakley, Martin Watkins, Gary Simms, the company was expanding and looking like it was going somewhere. Never a really big payer, Citymax did retain good people because of its team spirit. A newsletter was created - MadMax - to keep morale up.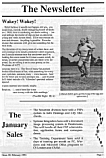 Not really making too many moves Limmax was dropped after a while.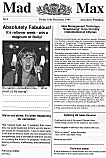 It was 1994 and Citymax became CS Citymax (solely owned by Credit Suisse now) and with the rest of the Credit Suisse group moved to docklands to the plush offices in Canary Wharf. Taking the top two floors of the original CS building (they now own most of CWharf!) views across the City were spectactular.
Axiom wasn't achieving any sales and after being supported for some time, development was dropped. Crest came about and Citymax's pounced for a new system - Arrow. New clients came on board, new team members were shipped in, Citymax was booming again.
1997 (?) saw Citymax being 100% sold to the American giant Electronic Data Services (EDS) when CS focused on the core business. It was not a popular sale with the boys on the floor. There were rumours that the sale had been manipulated after Ahmed had been moved out of the way. Amr left for new pastures. Citymax became officially known as EDS-SIG (Securities Industry Group) and was relocated to the side of Canary Wharf. New managers came in and ousted the older. Hassan remained for a while but left for new pasture shortly after.
The Clarion project started to push Citymax in to Data Warehousing. Technical guru Keith Singer was back in to his realm.
Redundancies, with the likes of Gerard Clinton, hit on a number of occasions. After accruing loses EDS sold Citymax at the beginning of 2000 to its old rival ACT. Citymax merged in to the ACT Financial Systems offices in Apr 2000 after another set of redundancies, this time taking a rather pleased looking Keith Singer among others.
---
Did you Know?
Citymax the name was thought to be from "City" for obvious reasons and MAX from .....
Only one person has ever retired from Citymax - John Grout, but he did return for a short term contract for the Y2K projects on Brokermax.
Ahmed's biolgraph was written up in Computer Weekly (does anyone still have the characture?)
MadMax newletter poked fun at itself and at the same time informed the company about what it is up to and what its competitors were up to. Funny enough, ACT kept appearing and having the mickey taken out of it..